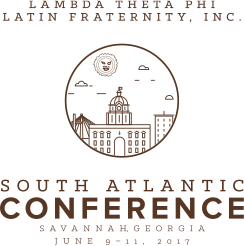 The 2017 South Atlantic Conference in Savannah, GA is coming soon!
Date: June 9 – 11, 2017
Location: Armstrong State University

In our first ever South Atlantic Regional Conference, we are developing workshops and social events that will benefit both undergraduate and alumni Brothers. Brothers will also have the opportunity to network and meet other members from across the region.

With its pedestrian-friendly layout and innovative urban design, Savannah serves as a balm for the senses. Savannah's beauty is rivaled only by the city's reputation for hospitality. The city inspires visitors with its emerald tree canopy, quaint cobblestone streets, and majestic architecture. 

Experience the history, beauty, and charm of this beloved coastal city during the South Atlantic Conference weekend with brothers residing in our region.

Register now by filling out the following fields.
Register